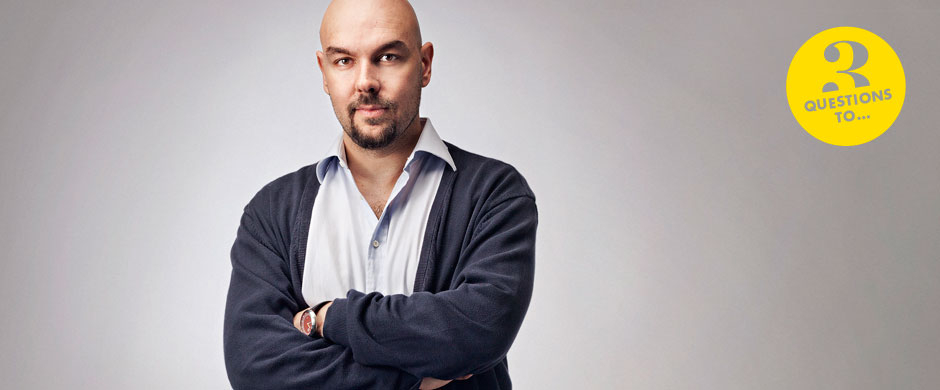 3 QUESTIONS TO…
LUCA NICHETTO — EDIDA YOUNG DESIGN TALENT WINNER 2009
Almost seven years on from winning the prestigious EDIDA Young Design Talent award, we caught up with Luca Nichetto, the interior designer and founder of NICHETTO Studio. We wanted to find out what the award meant to him, his career, and what we can expect from his projects in the future.
Photograpy ALEXANDER LAGERGREN By Katie Lewis
Born in Venice, 1976, Luca Nichetto studied at the city's Istituto Statale d'Arte (Art Institute) before undertaking a degree in Industrial Design at the Università Iuav di Venezia (Institute of Architecture of Venice) and graduating successfully in 1998.
Over the course of his career, Nichetto has served as Art Director for many international design brands and developed an in-depth knowledge of the design industry. In 2006, Nichetto founded his own practice known as Nichetto Studio, a multidisciplinary design studio in Venice, Italy, specialising in industrial design, product design and design consultancy. Five years later, in 2011, Nichetto opened his second studio located in Stockholm, Sweden.
Nichetto's work has been exhibited worldwide and has been the subject of retrospectives in cities such as Venice, London, Paris and Stockholm. Over the course of his career, Nichetto has also achieved a number of other design awards, including the including the Interior Innovation Award (2013) and the IF Product Design Award (2009). Nichetto has also been recognised internationally for his highly researched and innovative design projects including furniture, products and accessories as well as his architecture and exhibition designs.
1 - What did winning the EDIDA Young Designer of the Year award mean for you? It was a great confirmation that what I was doing as a designer had a meaning. The EDIDA gave me a boost in self-confidence which is definitely necessary to deal with the design industry.
2 - Who are your mentors? Can I say that I don't have mentors, but only people I admire? They are way too many to name just a few.
3 - What are your upcoming projects? There are lots of exciting projects in China, from becoming the Creative Director for a new company with over 50 new products in pipeline, to a collection of consumer electronic products. Expanding the Nichetto collection for Delaespada including several launches throughout the year and, of course, 15 new products planned for this year's Milan Design Week. Let's say that we are quite busy!
EDIDA YOUNG DESIGN TALENT WINNER 2009: