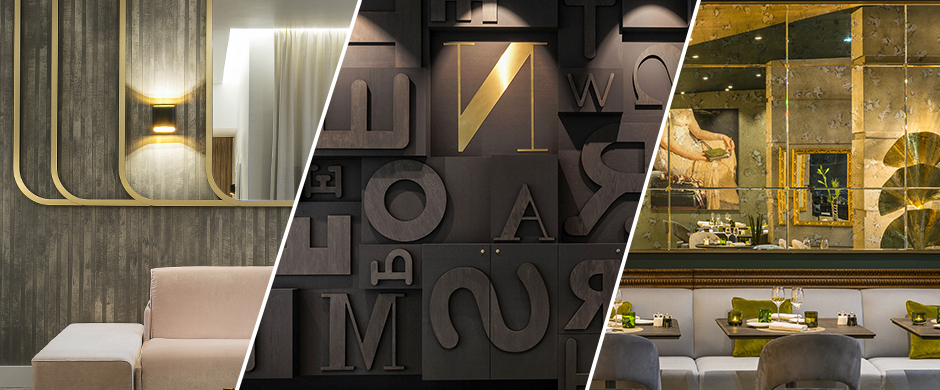 DESIGN
LOCAL FLAIR, SINGULAR STYLE
The official partner of this year's ELLE DECO International Design Awards (EDIDA), MGallery by Sofitel is an eclectic collection of international boutique hotels that marry local stories with world class design.
By KRISTIN HOHENADEL Photography BENOIT LINERO, ABACA CORPORATE/BARBARA ZONZIN
With more than 90 upscale boutique hotels in 26 countries, MGallery's unique properties combine the singularity of each hotel with a contemporary global design steeped in the history and culture of each location.
These shared values make MGallery by Sofitel the perfect partner for the 2018 EDIDA awards uniting ELLE Deco's 25 international editions. Some recent highlights from MGallery's growing collection of hotels include renovated heritage hotels in cities around the world by leading architects and designers, including Paris-based Ana Moussinet, Concrete Amsterdam and Russian sisters Irina and Olga Sundukovy.
ANA MOUSSINET
CENTURY OLD TOWN PRAGUE, PRAGUE, CZECH REPUBLIC,
HOTEL DE PARIS ODESSA, ODESSA, UKRAINE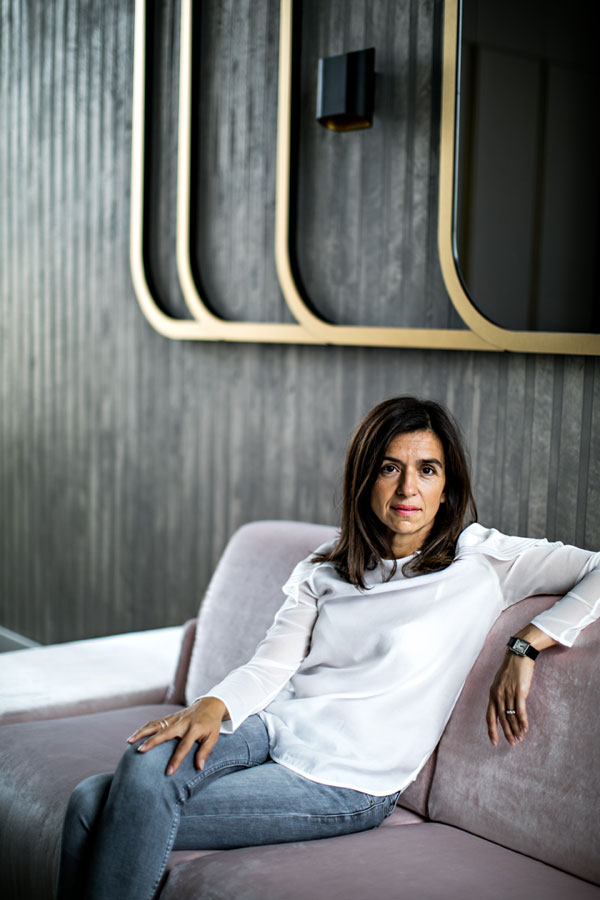 Photography BENOIT LINERO
Serbian-born interior designer and architect Ana Moussinet has been redesigning luxury hotels and private residences since establishing her Paris-based practice in 2001 with an approach that blends art and technique in equal measure. Moussinet considers the volume of a space a material to be sculpted, and she has lent her signature mix of French elegance, contemporary design and Slavic joie de vivre to the renovation of two MGallery by Sofitel hotels in historic European city centers. The 5-star Century Old Town Prague is located in the heart of the city in a listed 19th-century building near the Old Town Square originally designed by architect Alfonse Wertmuller. Once the site of the insurance company where Franz Kafka worked his day job in the early 20th century, the writer's bronze statue greets visitors in the lobby and his words are immortalized on the hotel's walls. And his former office, now branded the Kafka Suite, is inspired by Art Déco and mid-20th-century Cubism. Moussinet played off the building's heritage character—with its sculpted Neo-Baroque façade, grand staircase, columns, marble steps and wrought-iron banister—metamorphizing the interior with a striking contemporary update that brings it firmly into the 21st century. Abstract paintings, graphic black-and-white geometric patterned tiles, walls and floors and black and white marble finishes complement the historic bones of the building. Gold accents, sophisticated lighting and vibrant dashes of bright yellow and emerald green keep it fresh and modern. For the Hôtel de Paris in Odessa, a charming port city on the Black Sea in southern Ukraine known for its lovely 19th-century architecture and monumental Potemkin Stairs, Moussinet enhanced the neoclassical 1849 building with an irresistible dose of French allure, mixing luxurious textures, graphic patterns and using her deft hand at enhancing historic architecture with contemporary chic.
www.anamoussinet.com
HOTEL CENTURY OLD TOWN PRAGUE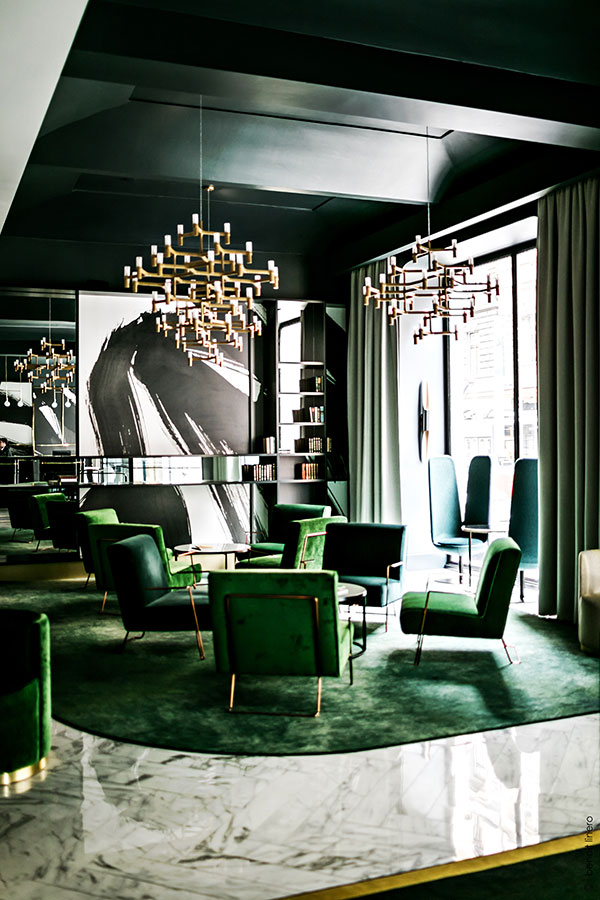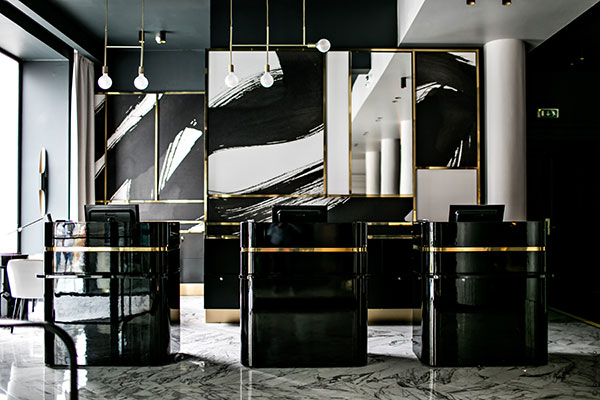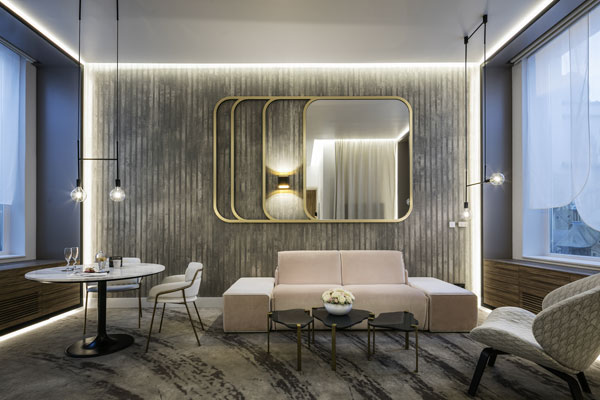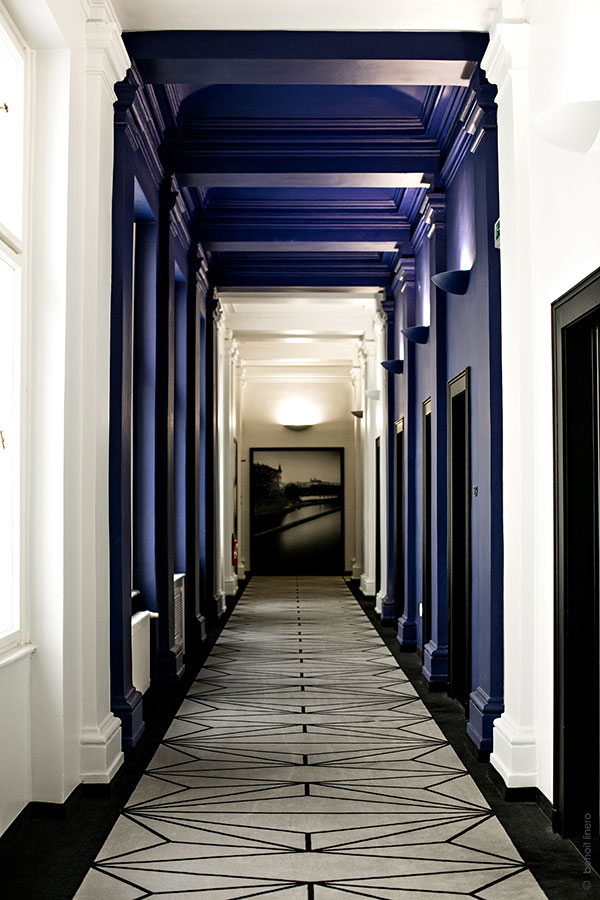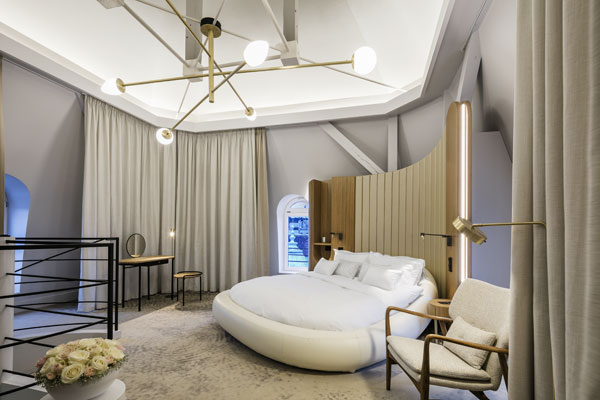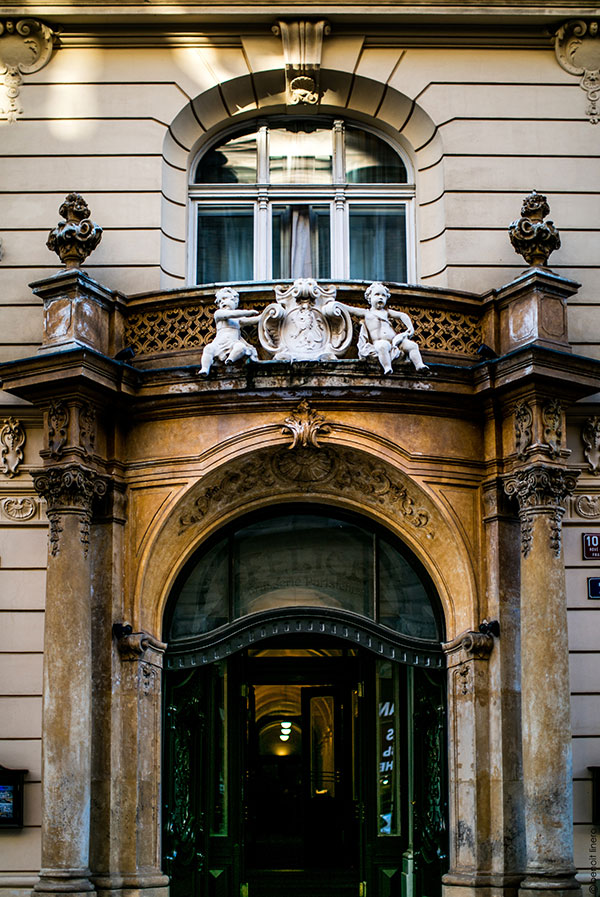 Century Old Town Prague: www.sofitel.com/gb/hotel-3440-century-old-town-prague-mgallery-by-sofitel
HOTEL PARIS ODESSA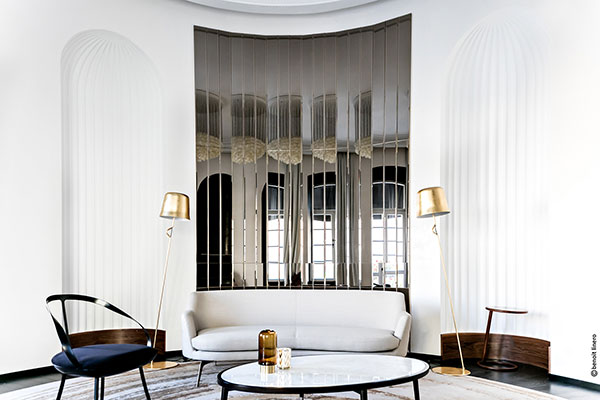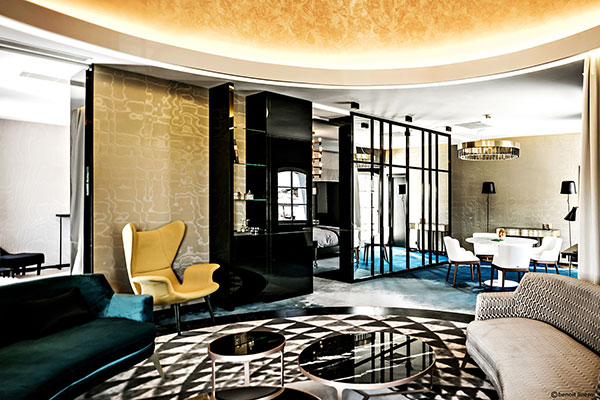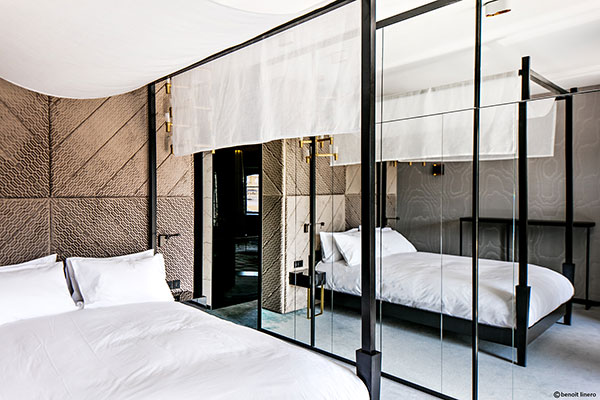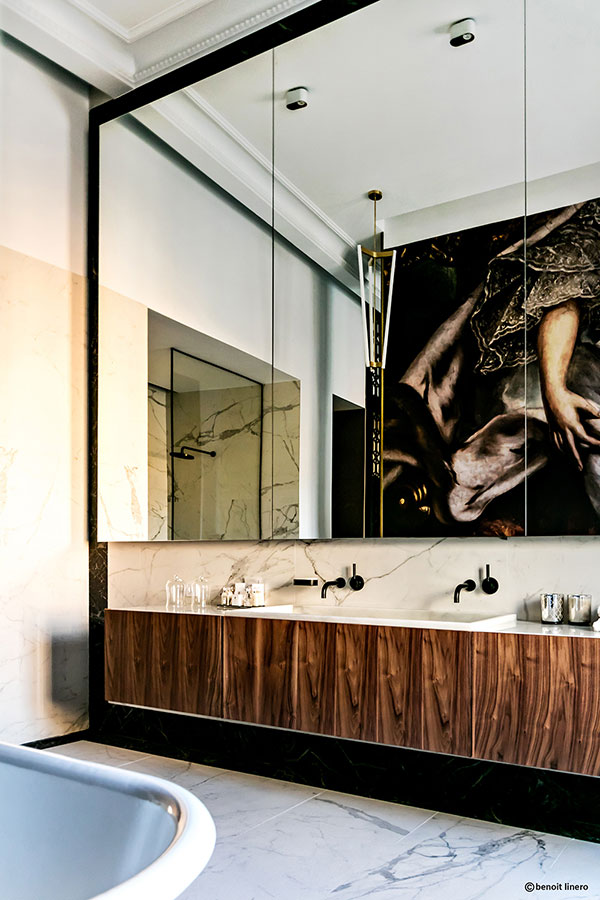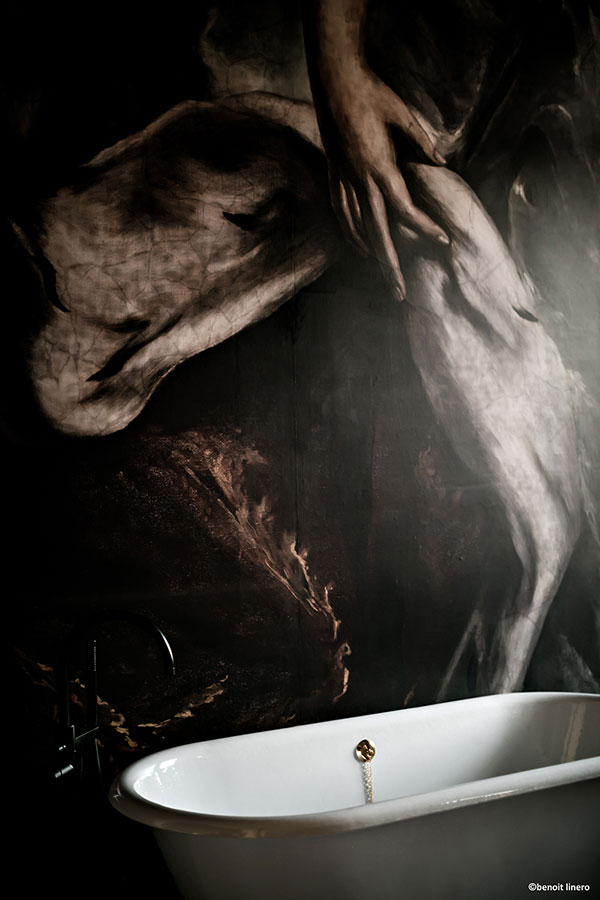 Photography BENOIT LINERO
Hotel de Paris Odessa: www.sofitel.com/gb/hotel-9944-hotel-de-paris-odessa-mgallery-by-sofitel
CONCRETE AMSTERDAM
INK HOTEL AMSTERDAM, AMSTERDAM, NETHERLANDS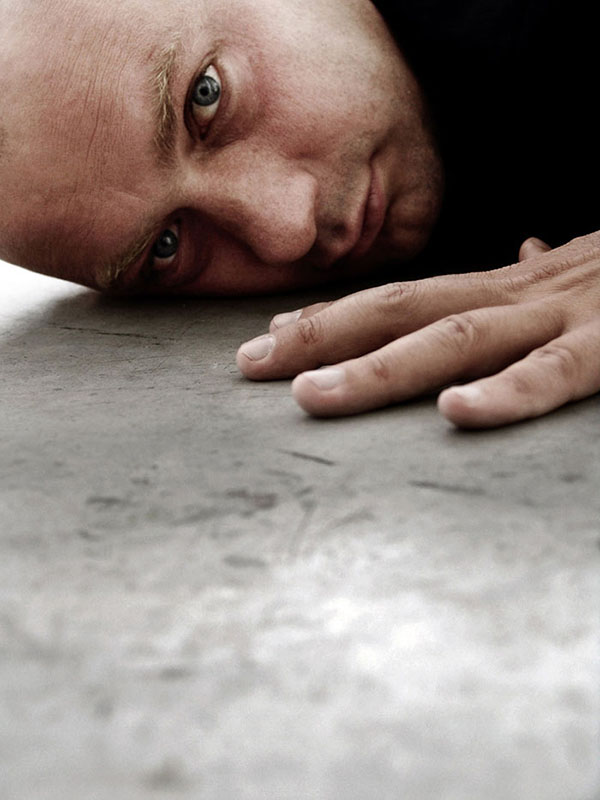 Rob Wagemans, founder of Concrete Amsterdam. Photo Krijn van Noordwijk
Concrete Amsterdam is an award-winning design and architecture firm with a team of 49 multi-disciplinary creatives including architects, interior designers and visual marketers that has completed dozens of hotels, residences, museums and other projects around the world. In 2015, they transformed three canal houses—including the former headquarters of the Dutch newspaper De Tijd ("The Times")—into a luxury design hotel located in the heart of the city. The designers used the site's ink-stained history as a present-day muse that celebrates the nostalgia of stories once told and the possibilities of those yet to be written. Giant letterpress blocks adorn the lobby walls. The bustling hotel restaurant, the Pressroom, is decorated with inkpots and vintage typewriters. The Library Lounge is stocked with books and printed newspapers and the wallpaper is a reproduction of one of the first editions of De Tijd, which was based there starting in 1904. Rooms have generous desks, industrial task lights, the walls decorated with artist Jan Rothuizen's hand-drawn Soft Map of Amsterdam, which tells a visual story about the surrounding area, as if they were written on a chalkboard.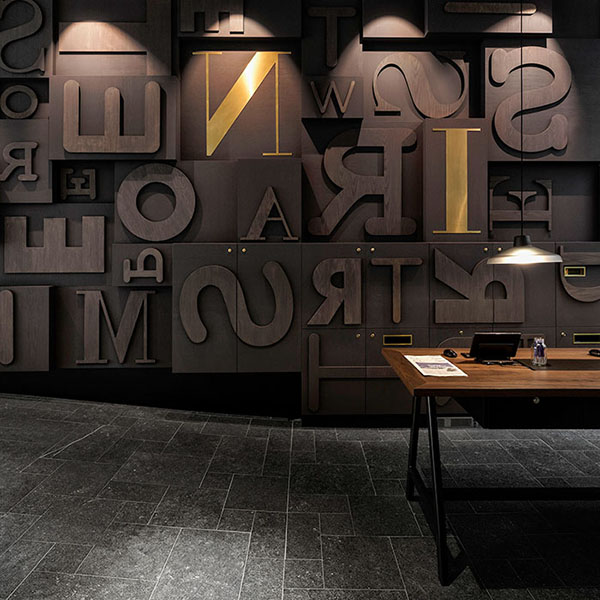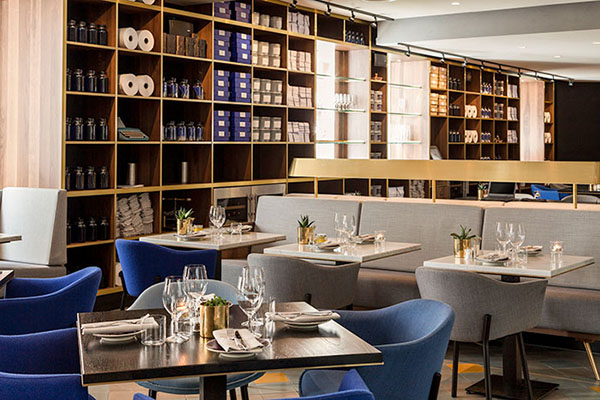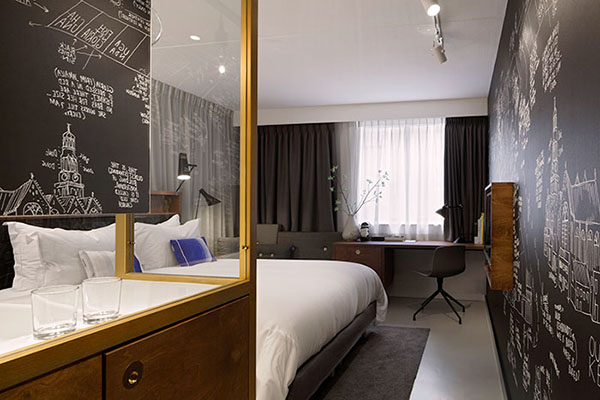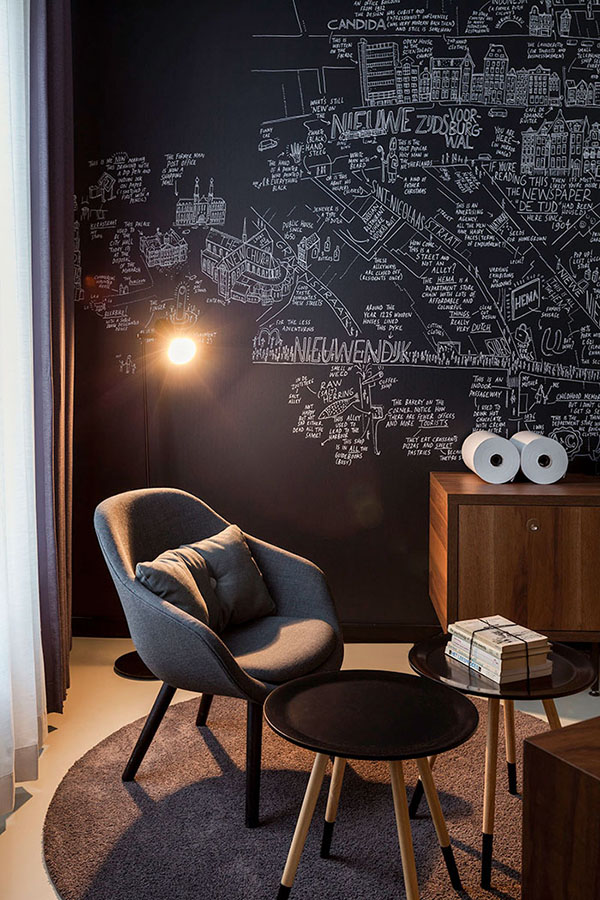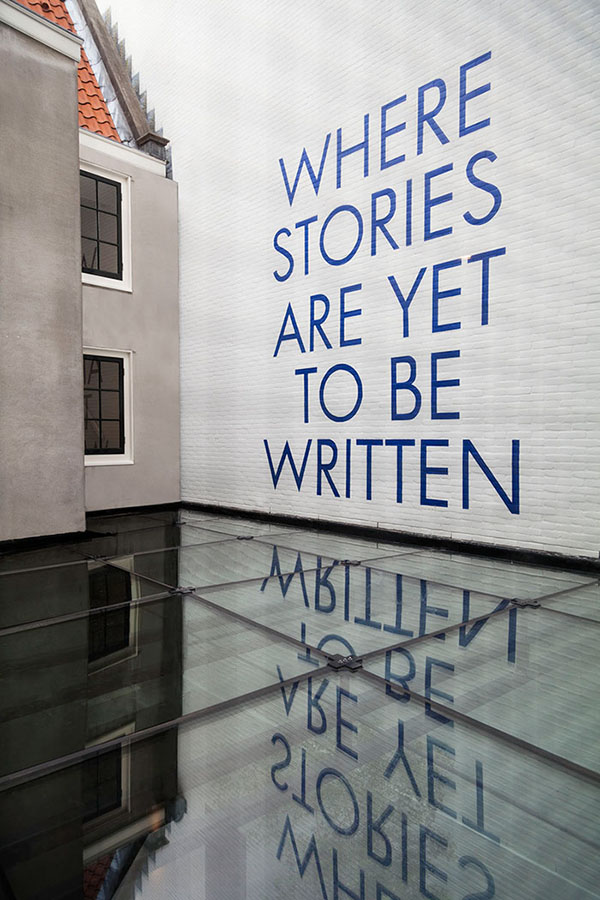 Photography @Accor
INK Hotel Amsterdam: www.sofitel.com/gb/hotel-1159-ink-hotel-amsterdam-mgallery-by-sofitel
SUNDUKOVY SISTERS
HOTEL LE LOUIS VERSAILLES CHATEAU, VERSAILLES, FRANCE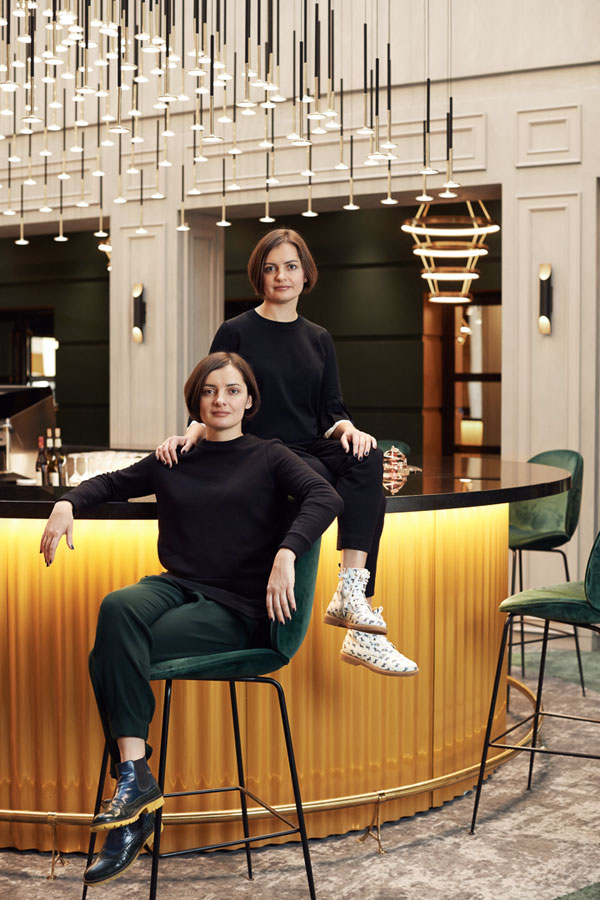 Russian interior designers (and twin sisters) Irina and Olga Sundukovy established their award-winning Moscow firm, the Sundukovy Sisters, in 2004 and have since completed dozens of public spaces including hotels, restaurants, bars and cafes across Europe, Asia, the US and Australia. The sisters are known for a style that respects the history of each location while adding a contemporary, idiosyncratic twist. In 2017, they transformed the interiors of MGallery's four-star Hôtel Le Louis Versailles Château, located in the shadow of France's storied Château de Versailles, on the site of a former equestrian arena dating back to 1854. The Sundukovy Sisters paid homage to the Sun King with royal flourishes like French crystal chandeliers and antique moulding details, using extra-long LED candles in the chandeliers and choosing a concrete finish that lends trompe l'oeil ceilings based on one of the palace rooms with a dash of modernity. Playful references to the palace and grounds include sculptural conical light fixtures that echo the shape of iconic manicured bushes and trees of the palace's André Le Nôtre-designed gardens. An imposing contemporary chandelier in the bar was custom-made in slate gray and gold to echo the roof tiles and gilded interiors of the palace. Carpeting is by turns a riff on the parquet de Versailles flooring found throughout the palace and an abstract reinterpretation of the palace landscaping. From glassware to decorative objects to upholstery, the interior color palette is lush with greens and golds, inspired by the flora and gilded architectural elements of the royal gardens.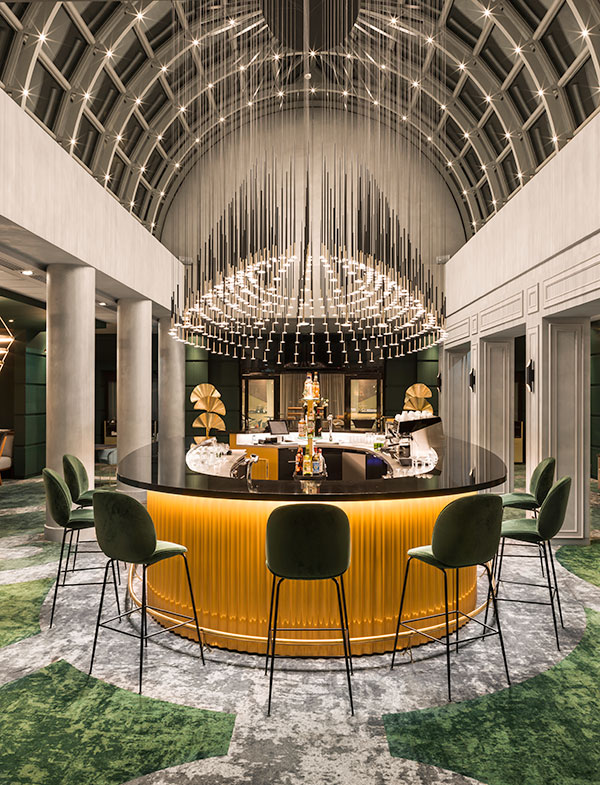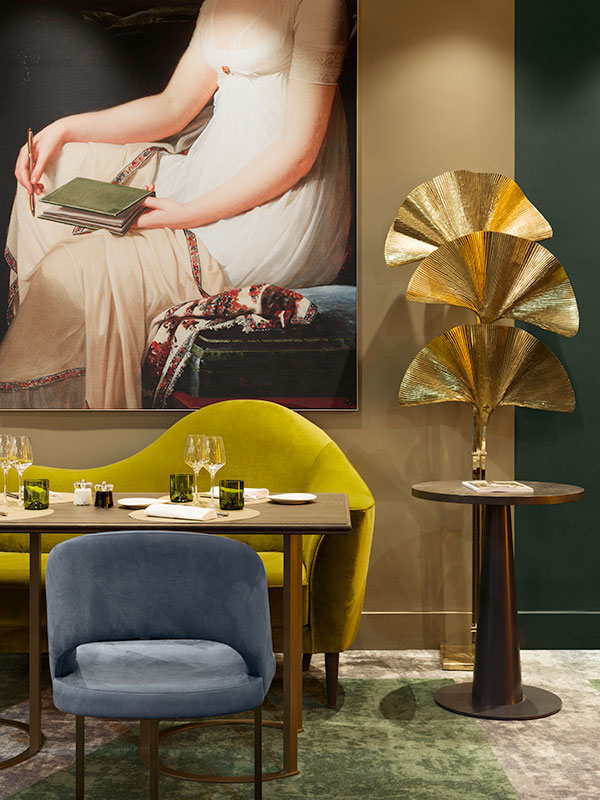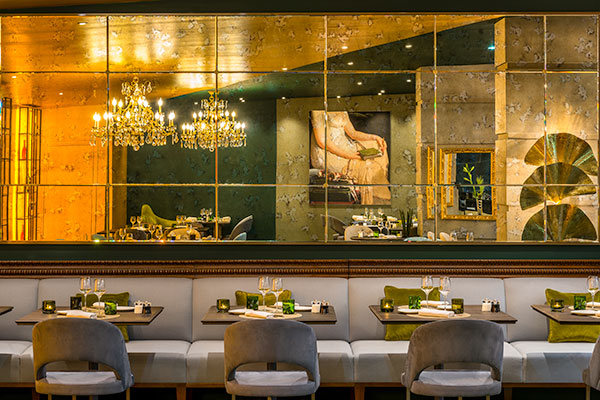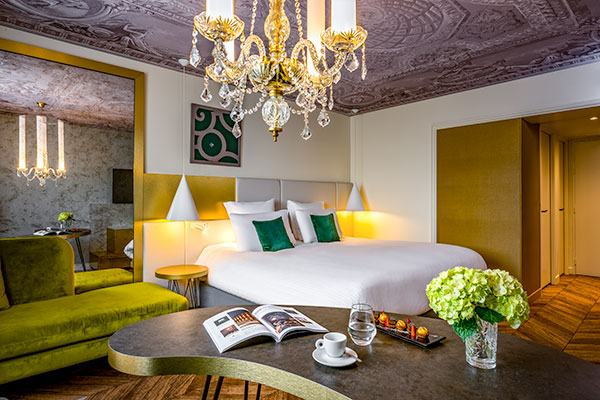 Photography @Accor
www.sundukovy.com
Hôtel Le Louis Versailles Château: www.sofitel.com/gb/hotel-1300-hotel-le-louis-versailles-chateau-mgallery-by-sofitel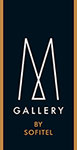 The ELLE Decoration network is partnering with MGallery by Sofitel for their 16th EDIDA edition, bringing together ELLE Decoration and MGallery's passion for design, art de vivre and travel as a way of life.
MORE INFORMATION: www.accorhotels.com