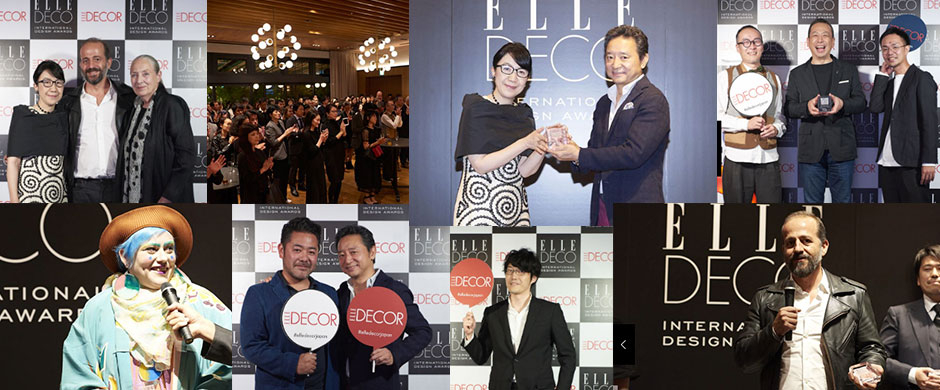 ELLE DECO PLANET
EDIDA JAPAN* WINNERS ANNOUNCEMENT
ELLE DECOR Japan celebrated their nominees for the international EDIDA 2019 at a grand event held in Shibuya.
The EDIDA Japan winner's announcement and party was held on 26th October 26th at the Trunk Hotel. It was also the start of the ELLE DECOR DESIGN WALK. Over 300 guests celebrated the winners in the 14 categories.
Discover the full winners list:
DESIGNER OF THE YEAR - MICHAEL ANASTASSIADES
YOUNG DESIGNER TALENT - ELISA OSSINO
FURNITURE - CHESS by KONSTANTIN GRCIC for MAGIS
FLOOR COVERING - SUPER FAKE by BETHAN LAURA WOOD for CC TAPIS
FABIRICS - LOEWE BLANKETS by JONATHAN ANDERSON for LOEWE
KITCHEN - AM 01 by ALESSANDRO MENDINI for SANWACOMPANY
SEATING - NO1 by NENDO for FRITZ HANSEN
WALL COVERING - SHIFT by BENJAMIN HUBERT for KVADRA
LIGHTING - DROP SYSTEM by LINDEY ADELMAN
BEDDING - KILLIAN by M. MARCONATO AND T. ZAPPA for PORADA
BATHROOM - FLOE by KEIJI TAKEUCHI for BOFFI
OUTDOOR - TOKU by VINCENT VAN DUYSEN for PAOLA LENTI
TABLEWARE - ALCOVA by RONAN AND ERWAN BOUROULLEC for WONDERGLASS
YOUNG JAPANESE DESIGN TALENT - YURI HIMURO
JAPANESE SOCIAL DESIGN PROJECT - RATTA RATTARR
*In addition to the international EDIDA, some of the ELLE DECO editions also organize local EDIDA events in their respective countries – each one with its specific selection process and event format.
READ MORE:
www.elle.com/jp/decor/decor-interior-design/g25567199/edidceremony2018-18-1200/