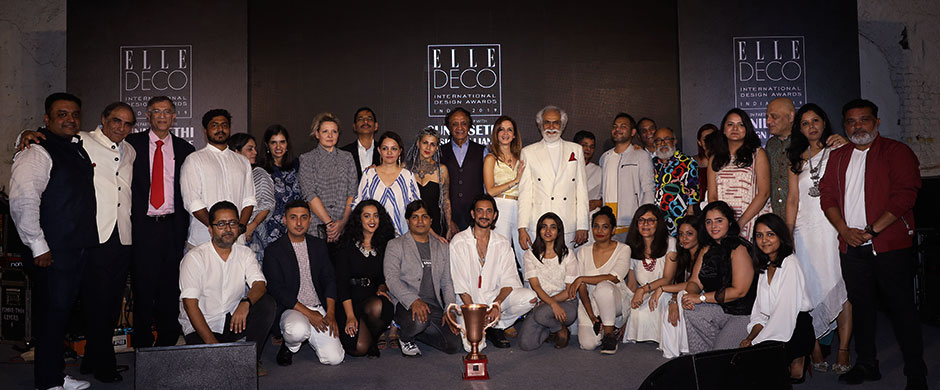 ELLE DECO PLANET
EDIDA INDIA* WINNERS ANNOUNCEMENT
ELLE DECOR India announced their nominees for the international EDIDA 2020 during a themed evening.
The EDIDA India 2019 ceremony was hosted at the Mukesh Textile Mills in Colaba, Mumbai on the 6th of November. Live jazz music, zesty cocktails and hors d'oeuvres set the tone for the evening. The ceremony was inaugurated by Mrudul Pathak Kundu, Editor of ELLE DECOR India and Sunil Sethi, President, FDCI and Sunil Sethi Design Alliance.
The winner's list:
DESIGNER OF THE YEAR — KUNAAL KYHAAN SEOLEKAR
INTERIOR DESIGNER OF THE YEAR — FARAH AHMED MATHIAS AND DHAVAL SHELLUGAR
YOUNG TALENT — SHASHANK GAUTAM
STUDENT OF THE YEAR — RADHIKA DHUMAL
STUDENT 1ST RUNNER-UP — MANUHITA GUPTA
BATHWARE — AMANDINE SCHIRA
BEDROOM — NISHITA KAMDAR AND VEERAM SHAH
FABRIC JOINT WINNER— AKILA SESHASAYEE AND PANKAJ KEHR
FABRIC JOINT WINNER— ASHITA SINGHAL
FLOORING — ARIANE THAKORE GINWALA
FURNITURE JOINT WINNER — ROOSHAD SHROFF WITH AMBRITA SHAHANI TUCKWELL
FURNITURE JOINT WINNER — PRIYANKA NARULA
KITCHEN JOINT WINNER — SHREELEKHA LAKSHMIPATHY
KITCHEN JOINT WINNER — HARPREET PADAM
LIGHTING — AHSAN ANSARI
TABLETOP — AKANKSHA DEO SHARMA AND IINA VUORIVIRTA FOR IKEA
WALL COVERINGS & FINISHES— SAIF FAISAL
* In addition to the international EDIDA, some of the ELLE DECO editions also organize local EDIDA events in their respective countries – each one with its specific selection process and event format.