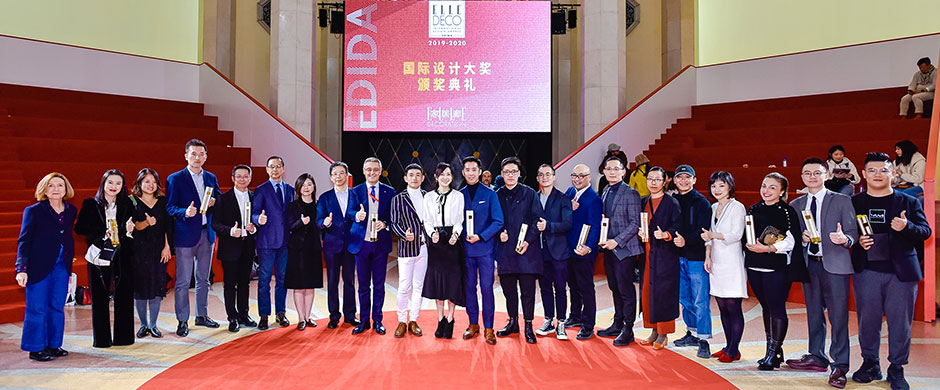 ELLE DECO PLANET
EDIDA CHINA* WINNERS ANNOUNCEMENT
ELLE Decoration China announced their local EDIDA winners in a ceremony at the top of the Shanghai Tower.
On the 21st of November 2019, ELLE Decoration China held a ceremony that took place in the Shanghai Tower, to announce their local EDIDA winners in an event that coincided with their 15th Anniversary celebration. As well as this, the event took place during the 4th edition of the Salone del Mobile.Milano Shanghai.
Below is the full list of winners.
DESIGNER OF THE YEAR – LUDOVICA + ROBERTO PALOMBA
YOUNG DESIGN TALENT OF THE YEAR- MARIO TSAI
INTERIOR DESIGNER OF THE YEAR - ANDRÉ FU
BATHROOM - RAINFINITY by PHOENIX DESIGN for HANSGROHE
BEDDING - ERGO by ROSS LOVEGROVE for NATUZZI ITALIA
FABRICS - PROGETTO TESSUTI by DIMORESTUDIO
FLOOR COVERING – ATELIER BY FANG TUTU II by YANG FANG for TAI PING
FURNITURE – TWELVE AM by NERI&HU for MOLTENI&C
KITCHEN - GK.03 CABINET by GIORGETTI
LIGHTING – NOCTAMBULE by KONSTANTIN GRCIC for FLOS
SEATING - ON&ON by BARBER&OSGERBY for EMECO
TABLEWARE - SHI (FITNESS) - WATER STORAGE TRAY by WANG GUOKUN for WUSHI DESIGN
WALL COVERING – TEX-TILE by PINWU DESIGN STUDIO for NOBEL TILE
OUTDOOR – RILLY by GAMFRATESI for DEDON
*In addition to the international EDIDA, some of the ELLE DECO editions also organize local EDIDA events in their respective countries – each one with its specific selection process and event format.