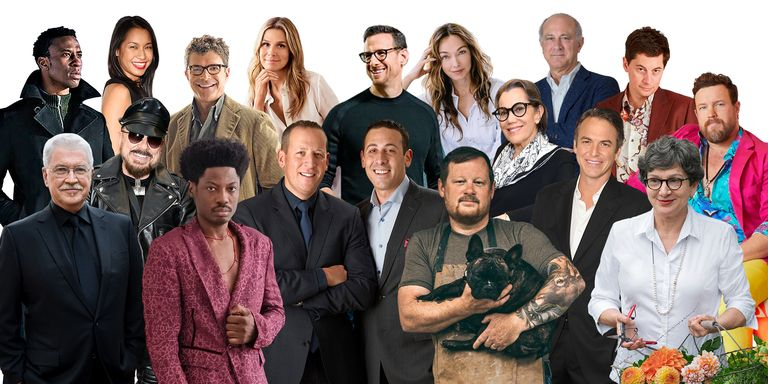 ELLE DECO PLANET
AMERICAN DESIGN AWARDS 2019
ELLE DECOR US celebrates American design excellence across 14 categories.
Text ESTHER LERNER Photography COURTESY
For the first edition of the American Design Awards, recognizing excellence in North American design across 14 categories, ELLE DECOR US celebrated the winners during an inimitable evening at the home of Ralph Lauren on Madison Avenue.
THE WINNERS:
DESIGNER OF THE YEAR THOMAS O'BRIEN
YOUNG DESIGN TALENT OF THE YEAR STEPHANIE GOTO
INTERIOR DESIGNER OF THE YEAR PETER MARINO
BATHROOM CONCRETE FAUCET by BRIZO for BRIZO
BEDDING THE WAVE BED by TROY SMITH
FABRICS CURTAIN WITH EVIL EYE by GEORGE VENSON for VOUTSA
FLOOR COVERING KYLE BUNTING X ABIDEMI COLLECTION by ABIDEMI OLOWONIRA for KYLE BUNTING
FURNITURE SECOND COLLECTION WITH SÉ by INI ARCHIBONG for SÉ
KITCHEN BRASS KITCHEN by AMUNEAL for AMUNEAL
LIGHTING ORI CHANDELIER by KELLY WEARSTLER for VISUAL COMFORT
SEATING PAUL MCCOBB SYMMETRIC ARMCHAIR by RALPH PUCCI
TABLEWAR AERIN X FRANCES PALMER COLLECTION by AERIN X FRANCES PALMER for FRANCES PALMER
WALL COVERING FLIGHT by PHILLIP JEFFRIES
OUTDOOR PIVOT DAYBED by JANUS ET CIE
DISCOVER: www.elledecor.com/design-decorate/interior-designers/g29654099/elle-decor-american-design-awards-2019/
* In addition to the international EDIDA, some of the ELLE DECO editions also organize local EDIDA events in their respective countries – each one with its specific selection process and event format.