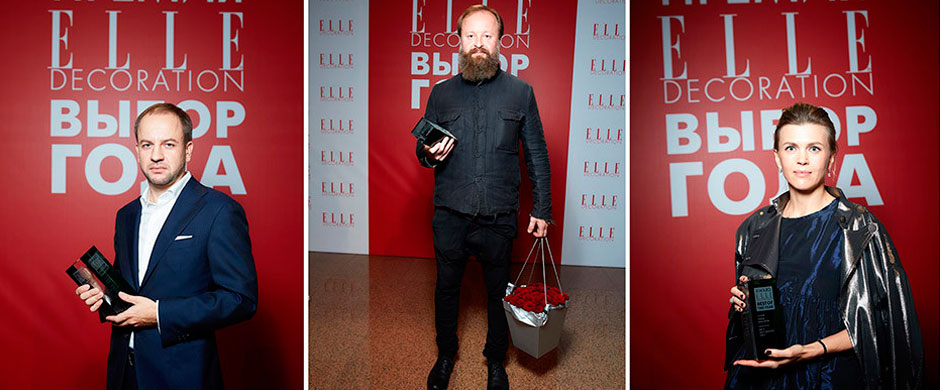 ELLE DECO PLANET
ELLE DECORATION Russia's 'Best of the Year'
ELLE DECORATION Russia names the winners of their international Design Award "Best of the Year" 2017.
Alexey Dorozhkin, Editor-in-chief of ELLE DECORATION Russia, and Russian TV host and actor Artem Korolev hosted the ceremony, which took place at The Institute of Russian Realist Art (IRRA) in October. After the winners' announcements, the handpicked guests, including decorators, architects, designers, celebrities and international partners, continued the party along with pianist Nikola Melnikov and DJ Talano performing.
The winners for 'Object of the Year' were selected through an online vote on ELLE DECORATION Russia's website. The winners were:
FURNITURE – 'APSARA', by LUDOVICA+ROBERTO PALOMBA for GIORGETTI
KITCHEN – 'CONVIVIUM' by ARCLINEA
BATHROOM – 'FINION' by VILLEROY & BOCH
FABRICS – 'VASARELY' by RUBELLI
HOUSEHOLD APPLIANCES – 'PRO HOME' LAUNDRY by ASKO
WALL COVERING – 'BLUE' by LITTLE GREENE
FLOOR COVERING – 'MARBLE LAB' by GRANITI FIANDRE
ACCESSORIES – 'TIE-SET' by HERMÈS
LIGHTING – 'BON JOUR VERSAILLES' by Philippe Starck for BACCARAT / FLOS
Winners in the second category "Professional of the Year" were selected by the team of the editors of 25 international editions of ELLE DECORATION magazine:
ARCHITECT OF THE YEAR" – MAXIM RYMAR
"DESIGNER OF THE YEAR" – DENIS MILOVANOV
"DECORATOR OF THE YEAR" – OLGA MALYEVA
A special prize for "CONTRIBUTION TO THE INTERIOR DESIGN INDUSTRY 2017" went to TATIANA ROGOVA, Director of Design School "Detali".
THE RUG COMPANY was awarded "OPENING OF YEAR 2017" for their showroom in Moscow. KARMA KITCHEN and "MARIYA" kitchens won a special award.
DISCOVER THE PICTURES FROM THE NIGHT:
www.elle.ru/elledecoration/news/elle-decoration-vruchil-premiyu-vyibor-goda2/
MORE ABOUT THE WINNERS:
www.elle.ru/elledecoration/news/pobediteli-premii-vyibor-goda/