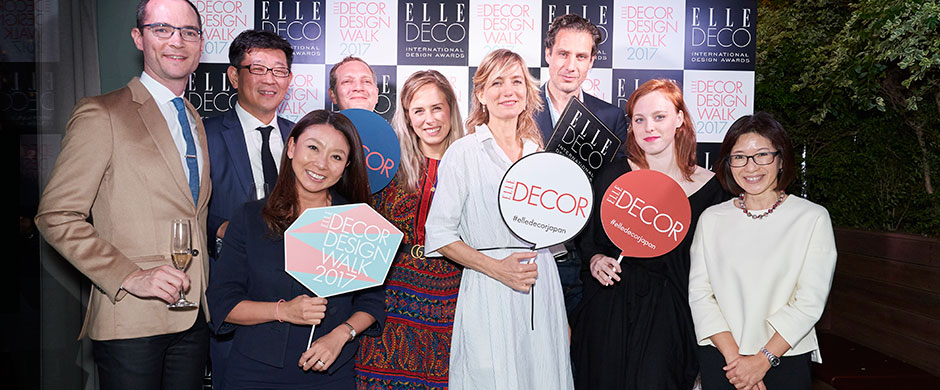 ELLE DECO PLANET
EDIDA Japan* winners announcement
ELLE DECOR Japan celebrated their nominees for the international EDIDA 2018 during a spectacular night.
Photography SHUHEI SHINE
The EDIDA Japan winner's announcement and party was held on October 27th in Tokyo at the Trunk Hotel. It was also the start of the ELLE DECOR DESIGN WALK. Over 300 guests celebrated the winners in the 13 categories, including young "Japanese Designer Talent."
Discover the full winner's list:
DESIGNER OF THE YEAR - GAM FRATESI
YOUNG DESIGNER TALENT – STUDIO SWINE
YOUNG JAPANESE DESIGNER TALENT – TAMAKI DESIGN STUDIO and WE+
FURNITURE – 'FOUNTAIN' by TOKUJIN YOSHIOKA for GLAS ITALIA
FLOOR COVERING – 'GARDEN LAYERS' by PATRICIA URQUIOLA for GAN
FABRICS – 'MESH, TRACERY, PARE' by SCHOLTEN & BAIJINGS for MAHARAM
KITCHEN – 'COVE' by ZAHA HADID for BOFFI
SEATING – 'PACK' by FRANCESCO BINFARÉ for EDRA
WALL COVERING – 'BEOSOUND SHAPE' by ØIVIND SLAATTO for BANG & OLUFSEN
LIGHTING – 'BLUSH LAMP' FORMAFANTASMA for FLOS
BEDDING – 'VIKTOR BED' DRAGA & AUREL for BAXTER
BATHROOM – 'LUV by CECILIE MANZ for DURAVIT
OUTDOOR – 'VERANDE' by DIMORE STUDIO for DIMORE STUDIO
TABLEWARE – 'KIMURA GLASS' by INGEGERD RÅMAN for INGEGERD RÅMAN COLLECTION'
LEARN MORE:
www.elle.co.jp/decor/pick/edida_party_17_1121
* In addition to the international EDIDA, some of the ELLE DECO editions also organize local EDIDA events in their respective countries – each one with its specific selection process and event format.