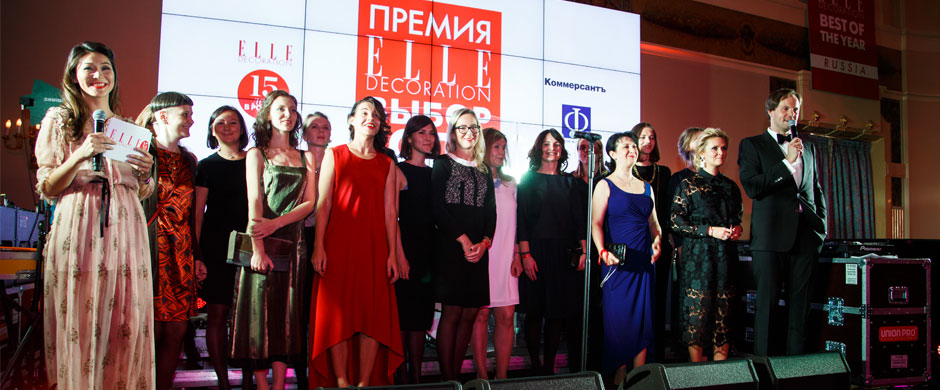 ELLE DECO PLANET
ELLE DECORATION Russia's 'Best of the Year'
On 12th, ELLE DECORATION Russia celebrated its fifteenth anniversary and revealed the names of the winners of their international Design Award "Best of the Year".
Alexey Dorozhkin, Editor-in-chief of ELLE DECORATION Russia, and TV personality Marina Kim hosted the awards ceremony. After the winners' announcement, the handpicked guests including decorators, architects, designers, celebrities and international partners continued the party, rythmed by Russian pop group Gradusi and DJ Vitaliy Kozak.
The winners for 'Object of the Year' were selected through an online vote on the ELLE DECORATION Russia's website. The winners were as following;
Furniture – Flexform, Isabel sofa designed by Carlo Colombo
Kitchen – Snaidero, Kelly (designed by Iosa Ghini), Look (designed by Michele Marcon)
Bath and kitchen equipment – Grohe, Grohe Blue water system
Fabrics – Dedar, Dalie Papaveri Tulipani fabric
Household appliances – Gorenje, Gorenje by Starck collection
Wall covering –Tattoo wallpaper collection by Anna Muravina
Floor covering – Bisazza, Wood collection
Accessories – Fürstenberg, Omnia tableware collection
Lighting – Mountain view suspension lamp by Dima Loginoff.
Winners in the second category "Professional of the Year" were selected by the editors of 25 international ELLE DECORATION magazines:
"The Best Decorator 2016" – Albina Nazimova
"The Best Architect 2016" – Akant Architects
"The Best Designer 2016" – Max Kasymov
A special prize for Contribution to the Interior Design industry 2016 — Elena Arkhipova (ARCHISTUDIO)
"Opening of Year 2016" — Interior Salon KRASSKY
Special Award — Pop-up store ASKO by Ekaterina Elizarova.
More about the winners will also be published in ELLE DECORATION Russia's December issue.