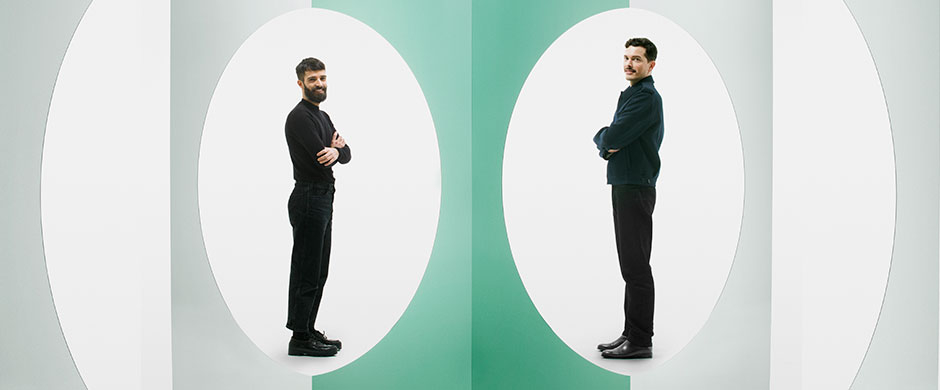 #EDIDA 2018
EDIDA AWARD WINNERS 2018
It's time to unveil the full list of winners among the 13 categories of the ELLE Decoration International Design Awards, voted for by the 25 editors-in-chief of the ELLE Decoration network. This year, EDIDA and MGallery by Sofitel have partnered for this 16th edition. And the winners are…
Photography ANDREA GARUTI Styling ELISA OSSINO STUDIO Words PAOLA CARIMATI
Since 2003, the EDIDA awards have become an unmissable event for the interior design world. Some of the world's most renowned designers have received EDIDA awards and this year is no exception.
The annual design awards ceremony took place in Milan on April 19th, 2018, during the world's leading furniture fair; Salone del Mobile. Along with EDIDA's official partner, MGallery by Sofitel, the event was held at the spectacular Triennale Teatro dell'Arte, a design museum and theater.
THE WINNERS:
DESIGNER OF THE YEAR /
FORMAFANTASMA
Andrea Trimarchi and Simone Farresin are leading the way in a new approach to designing as part of the industrial process. Formafantasma are unique within the international creative landscape. Last year, with farsighted intuition, they decided to edge further towards large-scale industry, temporarily distancing themselves from the world of art design galleries. The works they presented last year at Milano Design Week were unforgettable. Among these are the Blush Lamp and WireRing lights for Flos: the first exploits the potential of a dichroic lens to project 'brushstrokes' of colored light onto the wall; the second is a luminous circle magically fixed to the wall by an electric cable stretched between two ends. And again the Cromatica coatings for Cedit Ceramiche d'Italia, a collection of compatible and customizable modules characterized by non-homogeneous color blends. There had been signals of this change from uniqueness to repeatability in 'Anno Tropico', last year's exhibition at the Peep-Hole gallery in Milan which illustrated the functional and expressive potential of light sources. It was presented at the Spazio Krizia during Milano Design Week, and in 2018 it migrated to the TextielMuseum in Tilburg with five additional pieces, as the team continues to reap success. formafantasma.com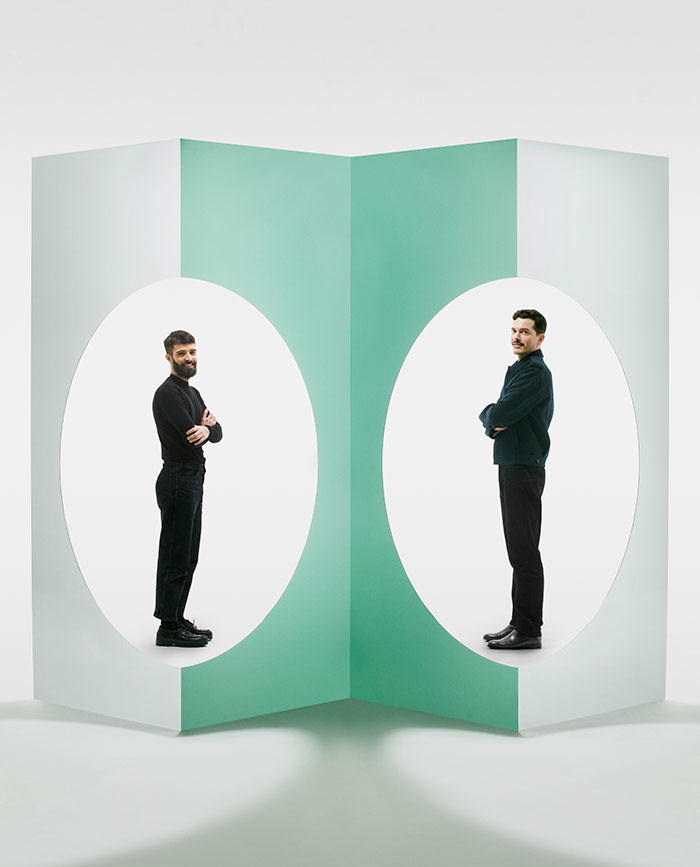 YOUNG DESIGNER /
STUDIO SWINE
This Japanese–British duo takes an interdisciplinary approach to design: all of their work straddles the spheres of art, design and cinema, blending poetry and research to create spectacular installations. Among them is New Spring, produced for Cos at last year's Milano Design Week. Their work hinges upon their curious desire to explore important issues through careful research into materials and manufacturing systems: this London-based couple in art and life are known for promoting their own brand of design activism to protect the environment and human rights, through works that display a sophisticated aesthetic and strong sentiments. Architect Azusa Murakami and artist Alexander Groves weave together poetry and research in the name of ethical commitment. Studio Swine's work has been widely exhibited at institutions such as the Victoria & Albert Museum in London, Pompidou Centre in Paris, and the Venice Art Biennale. They planted a stylised white aluminium tree in the darkness of the historic Arti cinema, designed by Mario Cereghini in 1930. Steam-filled soap bubbles blossomed from its branches; they burst on contact with the human body, releasing the steam. Like in a domino run, this interaction created an immersive, rarefied and dreamlike scenario. "We decided to invest in the emotions by creating an ephemeral work. The bubbles last an instant before vanishing into thin air", say the Japanese-British duo, who remain loyal to their principles. This project was inspired by the cherry blossom festival in Japan and like many of their other pieces, it pays homage to collective participation. studioswine.com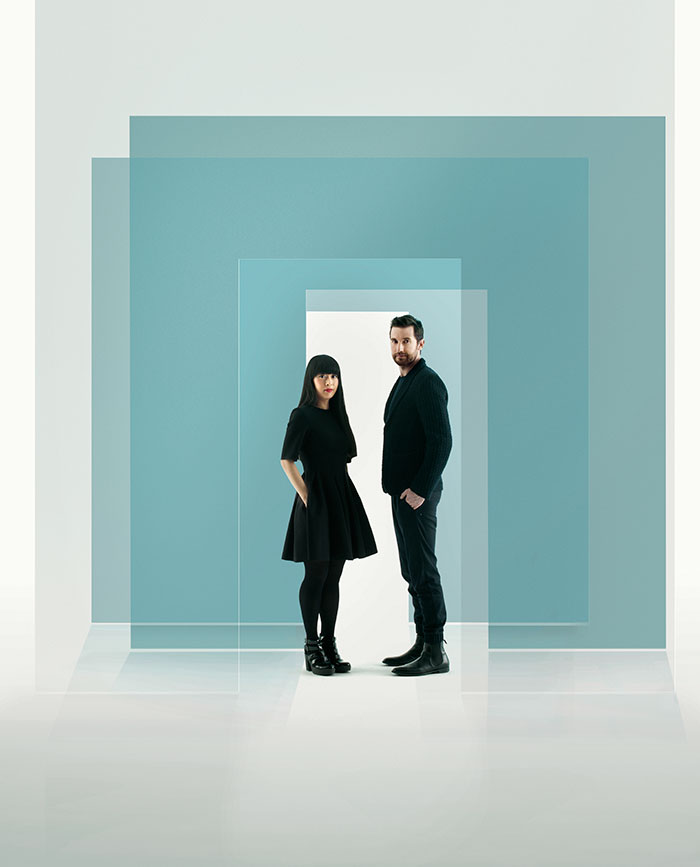 BATHROOM /
IMMERSION by NERI & HU for AGAPE
When it comes to wellbeing, more and more often the western world looks to eastern cultures for inspiration. That oriental mood provided the inspiration for the first bathroom project from this Chinese design practice. The designers approached the theme of bathing by considering the needs of younger generations who live in small apartments. Immersion gets around the space issue by following in the footsteps of traditional oriental bathing vessels: its volume is created through depth rather than width. Minimal and elegantly proportioned, this tub is designed to allow a full-body bathing experience. agapedesign.it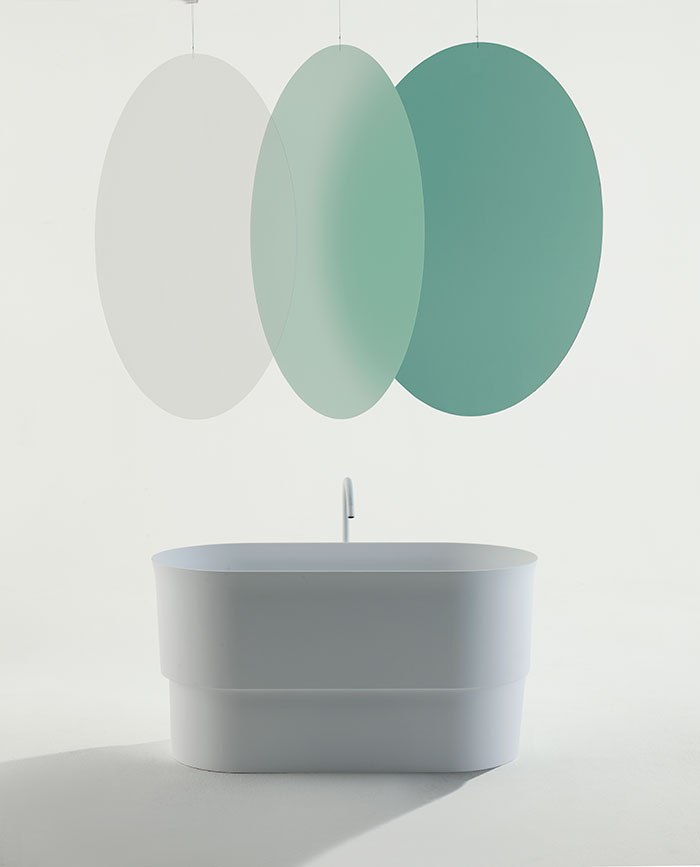 BEDDING /
WINGS BED by JAIME HAYON for WITTMANN
Hayon's trademark figurative language is used for this flying carpet of a bed. The rationale of this design is focused on the wings on either side, which open and close as required for a good night's sleep. If there's a need for intimacy, the bed becomes a warm, protective cocoon, but if the aim is to provide a striking focal point for the room, then it becomes a comfortable, functional platform. The built-in bedside tables are covered in leather and equipped with movable LED spotlights, making them mini worktables. wittmann.at (Credits: Pillows, Simmons Bed linen, Society)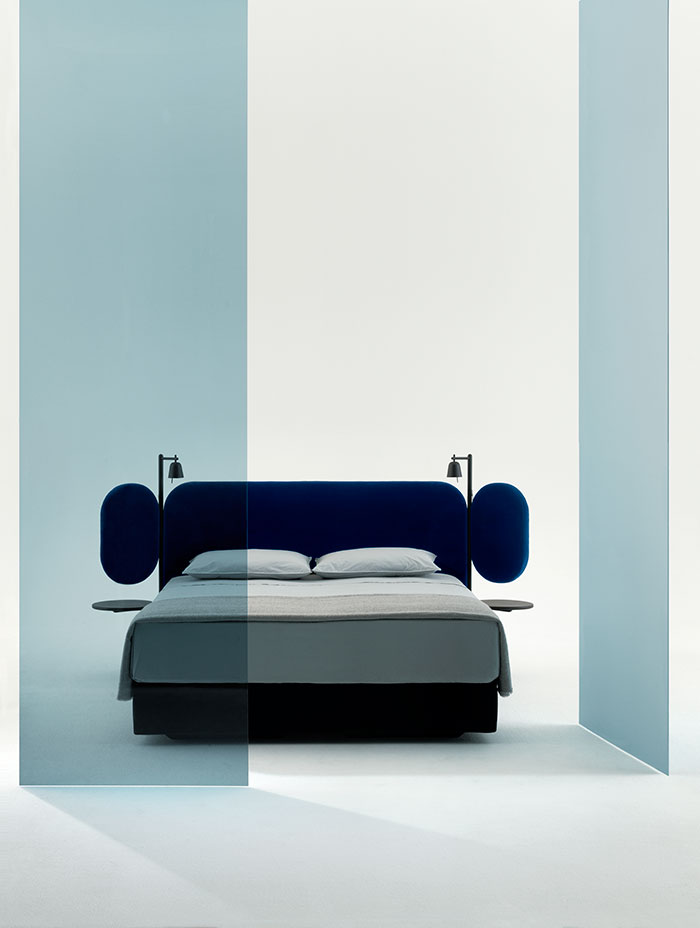 FABRICS /
TRUE VELVET COLLECTION by INDIA MAHDAVI for PIERRE FREY
When it came to creating her first collection of interior textiles, the "Queen of Colour" chose velvet. Her passion for bright hues goes back to her Iranian-Egyptian culture and her memories of a cosmopolitan childhood (the designer was born in Tehran and grew up in the United States, Germany and France). "After decades of beige and white, colour is now dressing our living rooms", declares the interior designer with conviction; with this collection she intends to recreate a joyful, welcoming atmosphere. It includes almost 80 shades, along with two prints, one with a diamond pattern (shown here) and one striped pattern. pierrefrey.com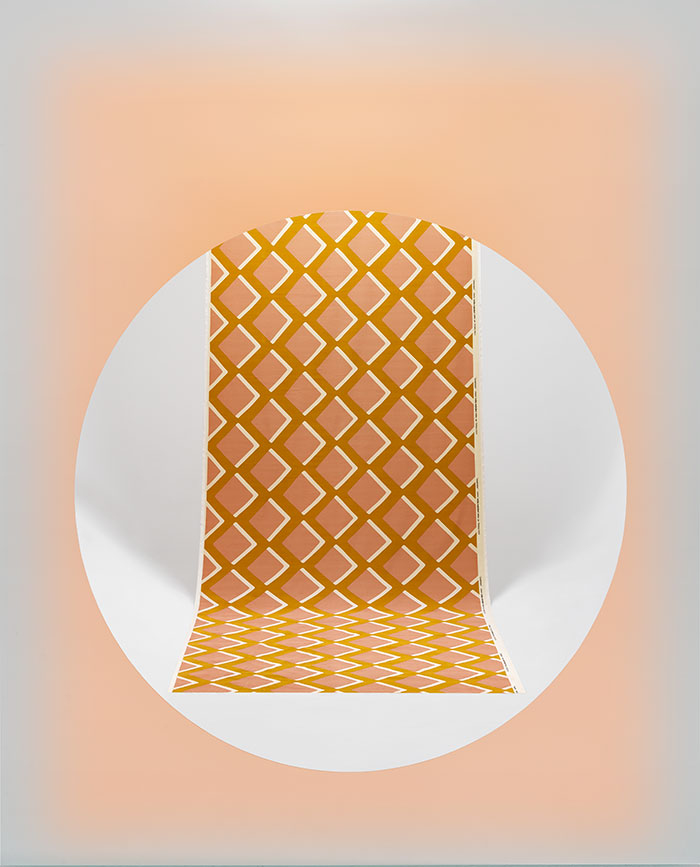 FLOOR COVERING /
HAYON X NANI by JAIME HAYON for NANIMARQUINA
The childlike patterns are somewhat misleading, for there's nothing elementary about how this carpet is made. On the contrary, the Spanish designer got to grips with tufting, a special manual technique for weaving woollen yarns, and experimented with new interpretations, for a startling end result. At first glance, the chaotic jumble of lines and colours seems like a pencil sketch, but look closer and a fantasy world emerges, populated with turtles, lips, hands, stools, animals… Reach out and stroke it, and you are drawn into the creative inner workings of Hayon's mind. nanimarquina.com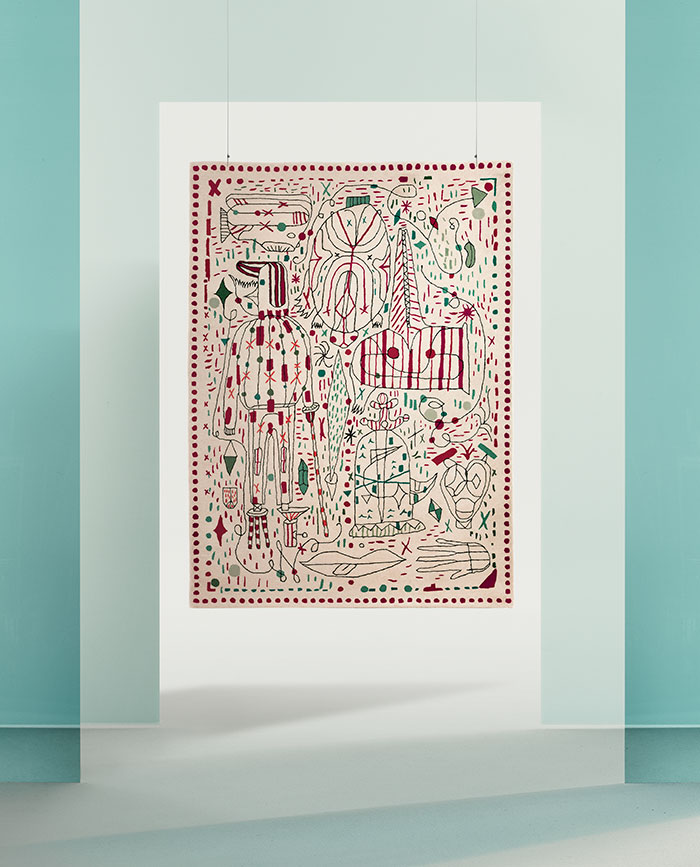 FURNITURE /
GREEN LIGHT by OLAFUR ELIASSON for MOROSO
Among the various post-millennial practices, humanitarian projects help make our world a better place. One such case is 'Green Light – an artistic workshop', an ethical participative project which the Danish-Icelandic artist presented at the last Venice Art Biennale: his idea was to invite refugees to collaborate on building modular lamps that project green light (the ray of hope). The bookshop and the lighting pieces are all based on the golden section rule, and are the result of an experiment which brings art closer to design, and design closer to projects to help asylum seekers. moroso.it

KITCHEN /
COVE KITCHEN by ZAHA HADID DESIGN for BOFFI
Turning a block of Corian into a sculptural element is proven to be possible. The Boffi island kitchen is the new star of contemporary conviviality and comes fully equipped with futuristic high-tech features. Cove is a compact system designed to integrate prepping and cooking functions with the shared enjoyment of food, gathering everyone around the snack bar. From now on, Hadid's unmistakeable flair will reign supreme in the kitchen, rendered even more beautiful by Boffi's expertise, which allows for a range of customised finishes. boffi.com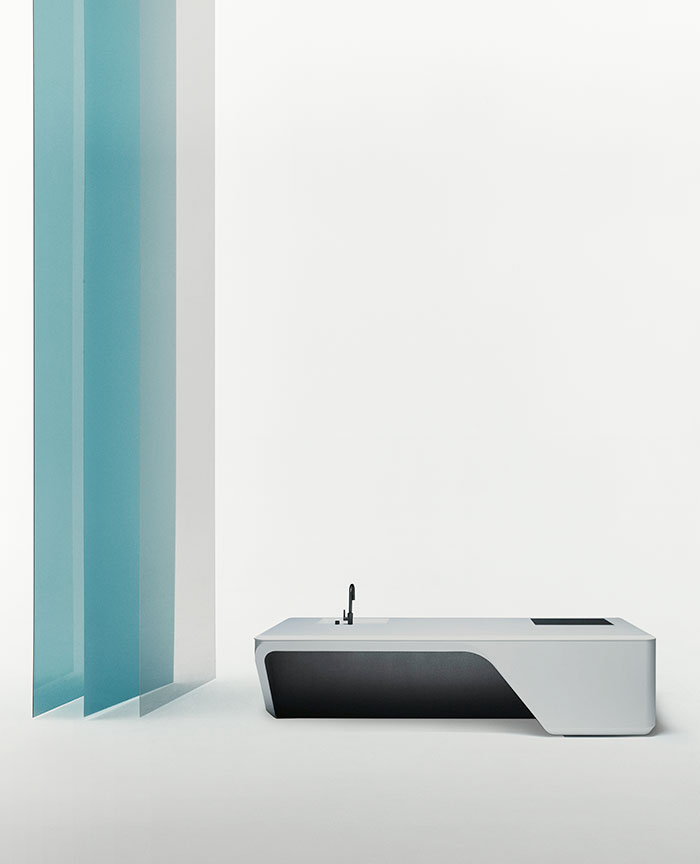 LIGHTING /
ARRANGEMENTS by MICHAEL ANASTASSIADES for FLOS
The Cypriot designer's work in the world of lighting has created a new design vocabulary consisting of nouns with a very clear message. Like words, every one of the elements invented by Anastassiades over the years tells a unique, original story. Now the designer is expanding his compositional language by shifting his attention from spherical shapes in opaque glass (the focus of many collections) to pure lines. The series of pendant lamps presented at the last Euroluce Fair consist of forms anchored elegantly to the ceiling, reminiscent of pieces of fine jewellery. "Arrangements" is a modular system of geometric elements of light that can be combined differently to create multiple compositions of individual chandeliers. Each module is fixed to the previous one in a simple way, laid out in perfect balance, as an element of a light chain, which conducts the electric energy activating the LEDs. flos.com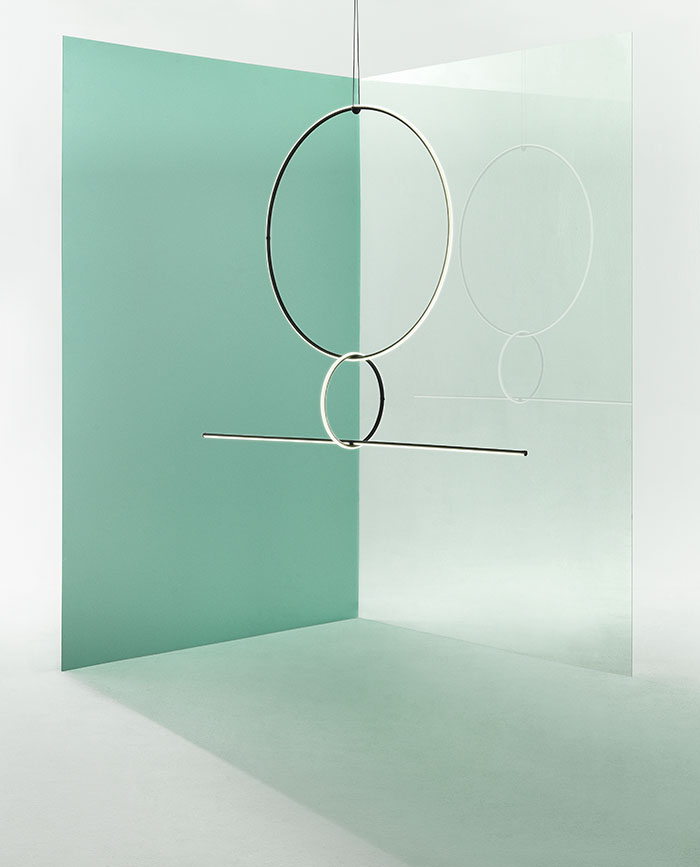 OUTDOOR /
MANILA by PAOLA NAVONE for BAXTER
A chair with a slender structure that recalls an exotic silhouette. The Italian designer worked on the concept of minimising materials to enhance the decorative power of her creations. She used just a few natural, handpicked contrasting elements: Manila reed tubing (which gives the project its name), oxidised copper for the structure, and leather-wrapped technical cord for the woven seat itself. A special tanning technique and Indian ink dye improve light resistance. The outdoor collection, which is available in shades of blue, aquamarine and green, is completed by a series of accessories made from terracotta, cocciopesto and volcanic stone. baxter.it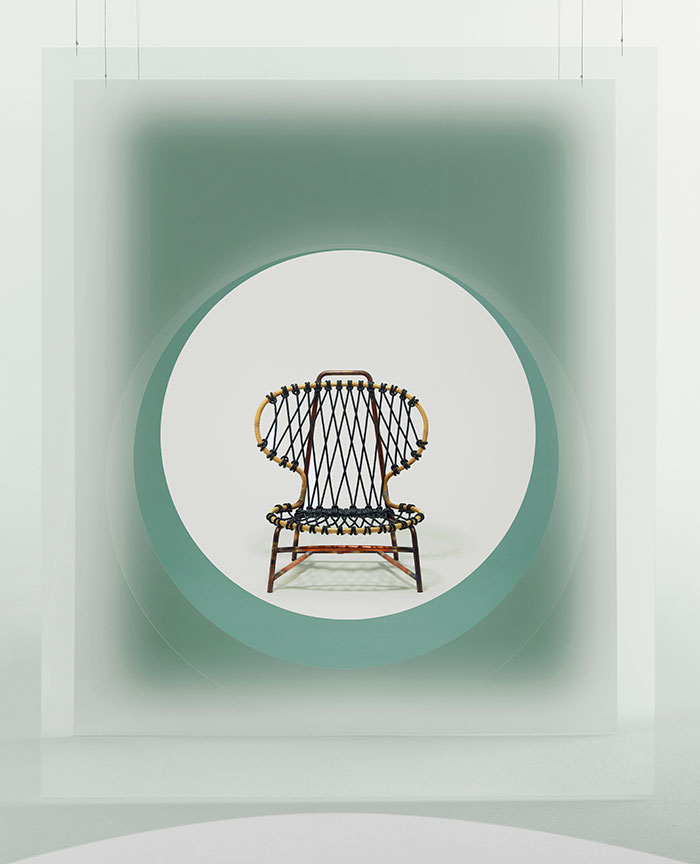 SEATING /
FIL NOIR by CHRISTOPHE DELCOURT for MINOTTI
This project is built around the concept of a thread (which gives it its name, "fil" in French), a distinctive design feature that is a metaphor for continuity. The "thread" is what gives character to this chair, not only outlining its silhouette, but actually supporting and enveloping it. And the thread also conveys a specific design choice: the decision to use metal tubing. The design is perfected by the company's know-how, which is tangible in the choice of details: upholstery in putty-coloured Berry fabric; high rubber-content elastic belts; goose down filling; fire-resistant polyurethane foam. These meticulous choices are emblematic of the sartorial craftsmanship that has gone into making this chair. minotti.com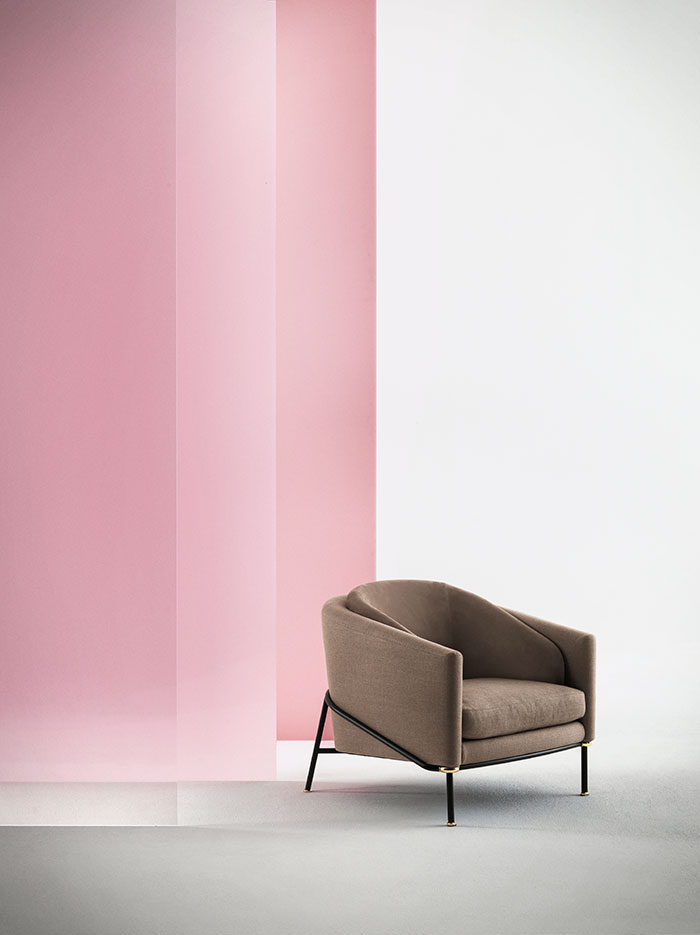 TABLEWARE /
WEDGWOOD by LEE BROOM COLLECTION by LEE BROOM for WEDGWOOD
A limited-edition capsule collection that takes its inspiration from the English brand's 250-year history. These micro-sculptures with a vaguely Art Deco feel are crafted by the skilled artisans who are masters of 'jasperware', a ceramics technique invented in the late 18th century. Vases and bowls are made up of basic geometric forms, highlighted by a specific choice of decoration. The black and white palette juxtaposed with glossy red gives these pieces an iconic allure. Future collectors' items. wedgwood.co.uk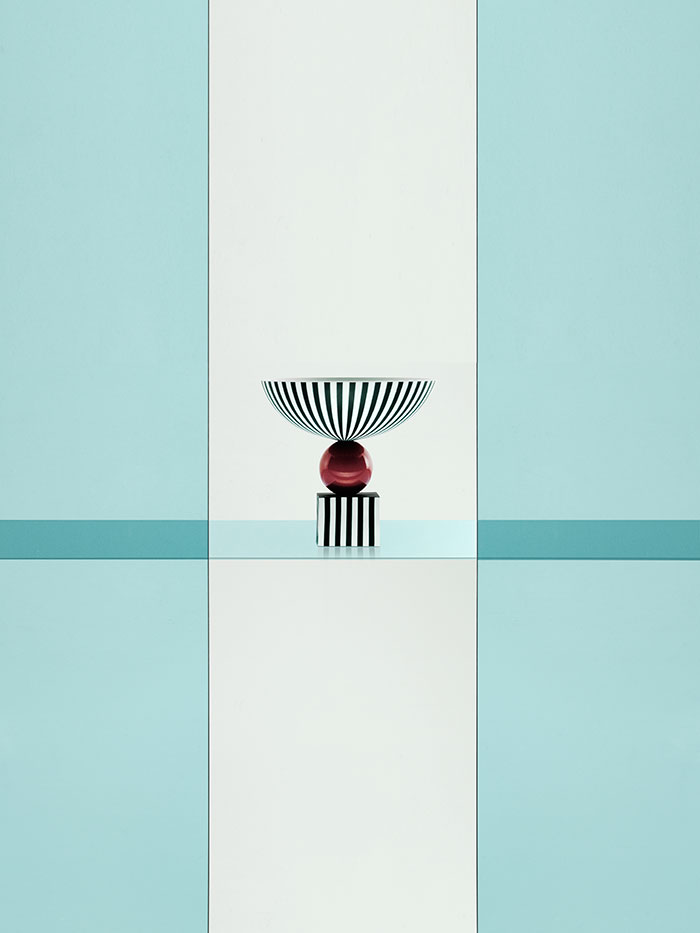 WALL COVERING /
BEOSOUND SHAPE by ØIVIND ALEXANDER SLAATTO for BANG & OLUFSEN
The Danish designer gives shape to sound – quite literally, by transforming a traditional speaker into a wall covering. From now on, home interiors can not only benefit from a professional, recording-studio quality audio system, but will also be adorned by original, colourful compositions in Kvadrat wool. Beo-Sound Shape is a modular system consisting of hexagonal elements to combine at will: the more elements used, the better the acoustic performance will be – an immersive effect is guaranteed. bang-olufsen.com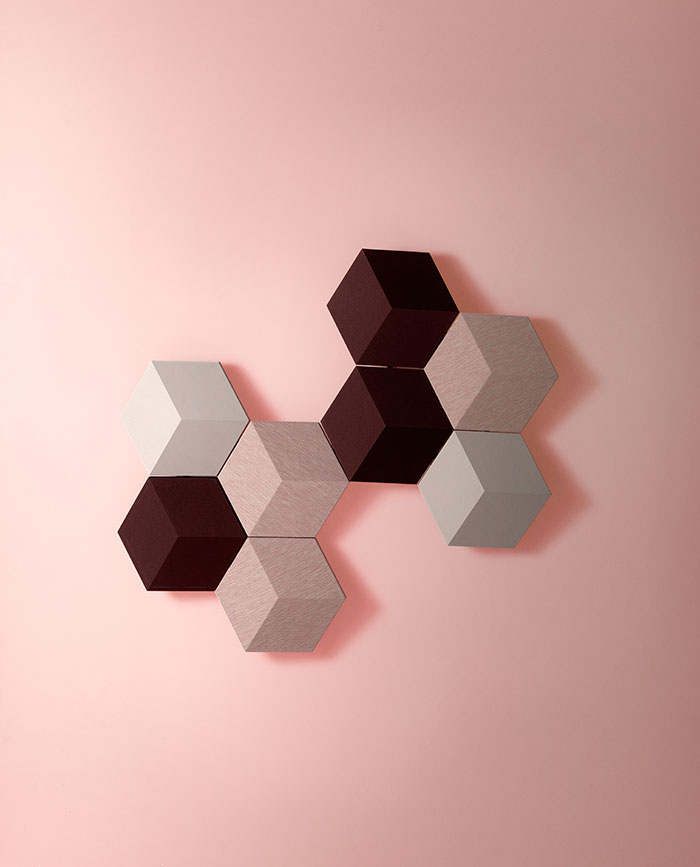 Look out for the EDIDA winners who will be published in the April-May issues of ELLE DECORATION worldwide.