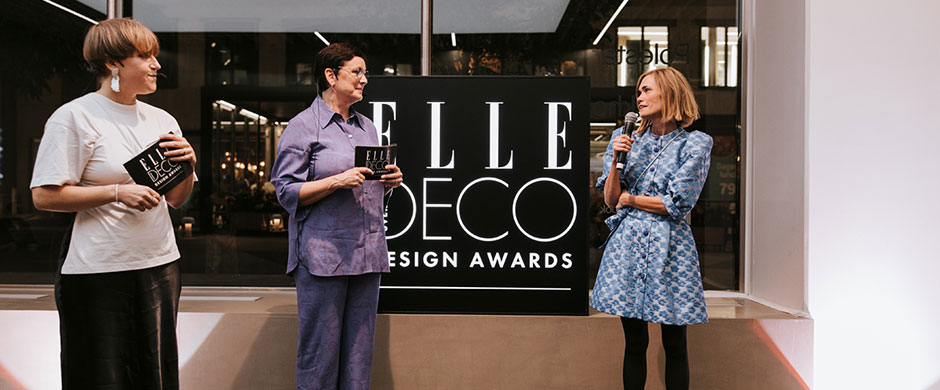 ELLE DECO PLANET
ELLE DECO SWEDEN DESIGN AWARDS
ELLE Decoration Sweden celebrated the winners of the ELLE Deco Design Awards 2022 with a cocktail and awards ceremony on September 22nd.
Photos JOSEFINE ANJOU, EMMA GRANN, HANNA SÖRQVIST
The ELLE Deco Design Awards celebrates the best of Swedish design from the past year across nine categories. "With this Price, we summarize the design and the trends of the past year and put forward Swedish Design. That is something we are very proud of. We highlight inspiring personalities that forms the Swedish design scene" states Cia Jansson, Editor in Chief of ELLE and ELLE Decoration Sweden.
The jury was made up of ELLE Decoration Sweden's Katarina Matsson, its President and Editor, Cia Jansson, Editor in Chief, Nina Oja, Creative Director and Cecilia von Mentzer, Managing Editor, as well as the designer Fredrik Paulsen and Marcia Harvey Isaksson, interior designer and curator.
The cocktail and awards ceremony took place at Polestar's venue in central Stockholm gathering the Swedish design scene.
The winners across the nine categories:
DESIGNER OF THE YEAR: Jenny Nordberg
YOUNG DESIGN TALENT: Gustav Winsth
INSPIRATOR OF THE YEAR: Verk
INTERIOR DESIGNER OF THE YEAR: Tekla Severin
HONORARY AWARD: Åke Axelsson
DESTINATION OF THE YEAR: Vandalorum
EYE-CATCHER OF THE YEAR: Siri Carlén
FURNITURE OF THE YEAR: Reform Chair by Jurij Rahimkulov for Reform Lab
INTERIOR ACCESSORY OF THE YEAR: Ninevites carpet collection by Nkuli Mlangeni-Berg
Exhibition of the designs of the winners
READ MORE: The ELLE Deco Swedish Design Awards 2022: HERE
The cocktail and Awards ceremony: HERE