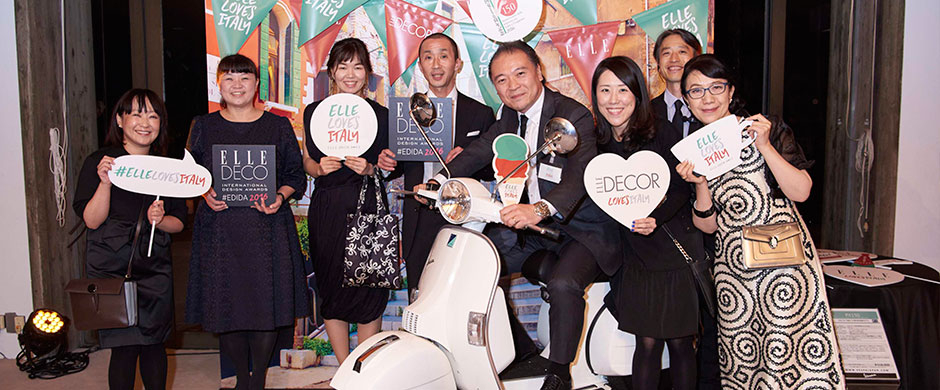 ELLE DECO PLANET
EDIDA Japan* winners announcement
ELLE DECOR Japan celebrated their nominees for the EDIDA 2017 during a spectacular night, themed 'ELLE LOVES ITALY'.
Photography SHUHEI SHINE
The event took place on October 28 at the Italian Embassy in Tokyo, honouring the close relations between the two countries. Masters of ceremony were Ryuko Kida, brand director of ELLE DECOR Japan, and Shigenori Hamaguchi, its editor-in-chief. Following the winner's announcement, handpicked guests enjoyed the dazzling party.
This year, nominees in 13 categories received an award, as well as three Young Japanese Designer Talents.
Discover the full winner's list:
DESIGNER OF THE YEAR - NERI & HU
YOUNG DESIGNER TALENT – KENSAKU OSHIRO
YOUNG JAPANESE DESIGNER TALENT – MIST-O, SHIZUKA TATSUNO and KEIJI TAKEUCHI
FURNITURE – 'ISHI' by NENDO for DEPADOVA
FLOOR COVERING – 'QUADRO CELESTE' by STUDIOPEPE for CC-TAPIS
FABRICS – 'AKIRA MINAGAWA COLLECTION' by AKIRA MINAGAWA for KVADRAT
KITCHEN – 'VVD' by VINCENT VAN DUYSEN for DADA
SEATING – 'T&O' by JASPER MORRISON for MARUNI WOOD INDUSTRY INC.
WALL COVERING - 'PURE MORRIS' by MORRIS&CO.
LIGHTING – 'FUSION' by ATELIER OÏ for OZEKI & DANESE
BEDDING – 'MAKURA' by PIERO LISSONI for PORRO
BATHROOM – 'WATER STEPS' by FRONT for AXOR WATER DREAM 2016
OUTDOOR – 'RIMINI' by PAOLA NAVONE for BAXTER
TABLEWARE – '2016/' for ARITA 2016/
LEARN MORE: www.elle.co.jp/decor/calendar/edida
* In addition to the international EDIDA, some of the ELLE DECO editions also organize local EDIDA events in their respective countries – each one with its specific selection process and event format.